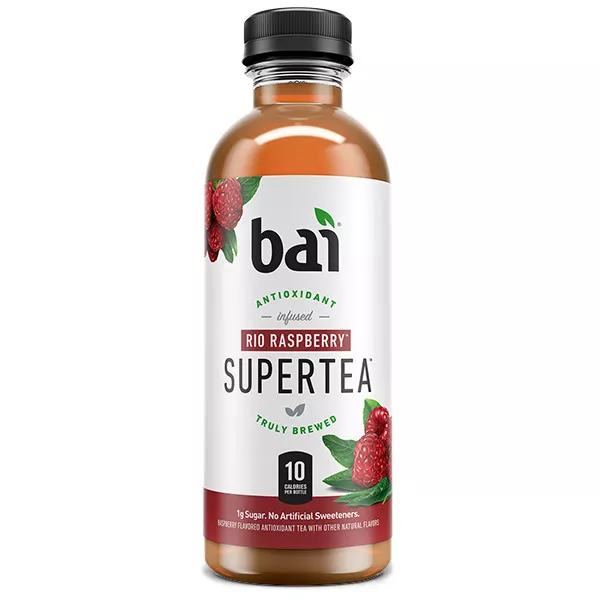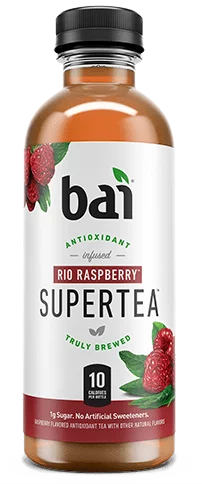 Have a grown-up tea party with your berry best friends

We put on our most flavorful hats and combined great tasting tea with good-for-you ingredients. Sure, it sounds like a mad idea. How can you have bold raspberry flavor with only 10 calories and no artificial sweeteners? You'll just have to follow your taste buds down a rabbit hole into the best of both worlds to find out.
We named our flavors after the coffee growing regions that inspired them, sort of like French Kissing or Bermuda Shorts. Learn about these regions and more here.
Rated

5

out of

5
by
jenburn918
from
i love it but can not find in my area
been drinking it for a year but cant find anywhere
Date published: 2022-08-05
Rated

5

out of

5
by
Weno
from
Delightful flavors
Have been drinking Bai rio raspberry for a couple of years, but now I can't find it anywhere.
Date published: 2022-08-03
Rated

5

out of

5
by
samanthad266
from
Bai rio raspberry tea
I'm usually not a tea person but this tea is amazing, especially on a hot day with lots of ice! 10/10 would recommend! I usually get mine from stop and shop.
Date published: 2022-07-02
Rated

5

out of

5
by
MoreRIOraspberrySuperTea
from
The absolute best but you must produce MORE!!!
Everything about this tea is perfection, so do not change the ingredients or quality, please! But your marketing team is flawed because you are missing out on $$$$$$! This sells out EVERYWHERE! You need to get more of this product out on the shelf. It is in demand. I am going nuts without my rio raspberry supertea!! What is up?!?!?! GET THIS TEA OUT THERE!!!!!!!! PLEASE!
Date published: 2022-06-25
Rated

5

out of

5
by
TerriB
from
My favorite Tea Ever!!!
I buy every time I can find Rio Raspberry Tea, however finding this tea in Kroger, Target, Wal-Mart or Tom thumb is almost impossible, I keeping looking and the Rio Raspberry Tea hasn't been on the shelves in months, Please Please restock more - I am having major Rio Raspberry Tea Withdraws..... I even tried on Amazon, and a seller there wanted $75... crazy... Will keep watching for the to be back on the shelves....
Date published: 2022-06-18
Rated

5

out of

5
by
TracyD
from
Great Tea
Love it but hard to find in store can you tell me if you are discontinuing it?
Date published: 2022-03-18
Rated

5

out of

5
by
Tomcat
from
YUMMY!
I found this tea at Weis Market about two months ago. I love the taste, so good. I have tried other brands and they don't come close in taste. I have not seen this at any other stores. I only see the fruit drinks you sell, how come? If Costco, Walmart, Publix Market or Wegmans carried them they would sell off the shelf quick. I have only seen the raspberry and peach tea and like them both but they only put out eight of each at a time so I have to go the every couple of days to stock up. You have a great tasting product like the rest of the drinks you make. Yes, they cost a bit more than others but they are not loaded with sugar and chemicals. Bai needs to get all their teas out in stores, six packs and cases because it sure is so much better than the other products out there. Your other products sell good so what is the problem with the tea? Buying this on line is crazy because of the shipping cost. People love tea in the south.....................Fredericksburg, Va.
Date published: 2021-07-18
Rated

5

out of

5
by
BillieJ
from
Yum
I'm so glad I tried the Bai rio raspberry tea. It's my new favorite! I love that it only has 10 calories and 1 gram of sugar per serving. It's infused with antioxidants, gluten free, soy free and vegan!
Date published: 2021-04-05