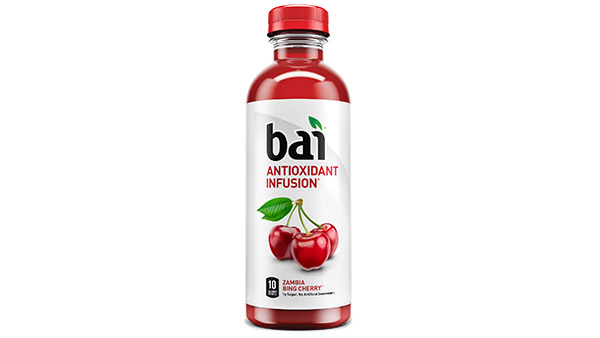 Flavor so magical, it'll grant your wish like a cherry godmother.

When you open a bottle of Zambia Bing Cherry you start to wonder how it could be this great tasting and good for you. It's almost as if you would need some sort of delicious magic to make this happen. You might think it's the bold flavor, 1g of sugar, and no artificial sweeteners that make this bottle so delicious. Or maybe you think a cherry godmother just whacked your taste buds with a flavor wand. But we'll never tell. Okay, you got us. It's the second one.
We named our flavors after the coffee growing regions that inspired them, sort of like French Kissing or Bermuda Shorts. Learn about these regions and more here.
Nutrition Facts
Serving Size | 1 Bottle
Amount Per Serving
% of Daily Value
Not a significant source of saturated fat, trans fat, cholesterol, dietary fiber, vitamin D, calcium, and iron.
13.5mg Vitamin C
100mg polyphenols from tea and coffeefruit extracts.
Caffeine
55mg per bottle (Like a cup of green tea)
Filtered water, erythritol, citric acid, cherry juice concentrate, malic acid, blackberry juice concentrate, potassium citrate, vegetable and fruit juice concentrates (for color), tea extract, ascorbic acid (vitamin C), stevia leaf extract, natural flavors, coffeefruit extract.
Rated

5

out of

5
by
nonickname
from
Good from the word "GO"
I am constantly on the search for sugar free drinks. The cherry and the peach are my favorites. I regret the fact if the cherry flavor is seasonal, because you lose sales when I cannot locate it. We had two cherry orchards on our farm as I grew up so appreciate the product. I try to always make it a part of my day hike kit. Thank you.
Date published: 2022-05-04
Rated

5

out of

5
by
CherryHeaven
from
Lord Almighty - It's Heaven in a bottle
Seriously, if I was to make sweet, sweet love to a low calorie, low sugar beverage this is the one I would choose. This is the PERFECT every day hydration choice. The Cherry flavor is fantastic...I may never get tired of this drink.
Date published: 2022-04-12
Rated

5

out of

5
by
lalajobo
from
For the cherry lovers
This is a refreshing not-a-juice that tastes like one. Bai drinks have 10 calories a bottle, some vitamin C and that's about it. I love cherries and this is one of my repeat buys. It's tasty and sweet, doesn't have but 1g of sugar. You can find these almost anywhere I'd def recommend but if you prefer sour cherry drinks this one likely won't appeal.
Date published: 2022-04-04
Rated

5

out of

5
by
hannahw331
from
If you like cherry
If you like cherry flavored drinks, this one is a must! It's not too sweet but it still has a great flavor!
Date published: 2022-04-02
Rated

5

out of

5
by
Sykopaf
from
My new addiction
Just recently discovered this Zambia Bing Cherry. Wow… it's my go to beverage now.
Date published: 2022-01-02
Rated

5

out of

5
by
glad2be
from
Magically Good!
First, the flavor - it is incredibly flavorful, and seems like dessert, but is only 10 calories and only 1 gram of sugar! Add to that the antioxidants which, quite literally, just make you feel better! I love to drink this every day, but especially when I'm feeling a little down or tired - it picks me right back up! No carbonation, so you don't have to worry about what that would do to you AND it actually makes a great mixer!
Date published: 2021-12-07
Rated

5

out of

5
by
SRL2018
from
My Ab Fab Favorite
I have been drinking this for the past 6 months or so & Love it. It is hard to find in my area so when I do, I buy it out.
Date published: 2021-10-13
Rated

5

out of

5
by
CherryCheri
from
Best Flavor By Far!
This is my favorite flavor! Delicious! Please don't ever discontinue it!
Date published: 2021-07-21