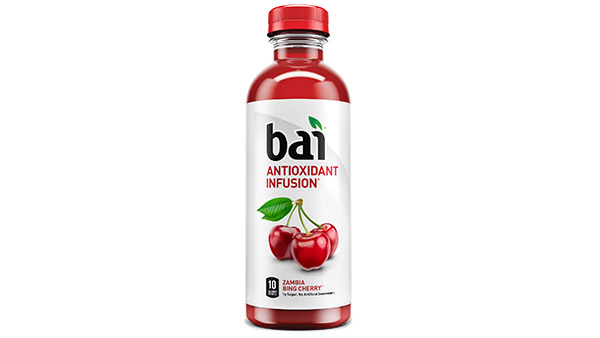 Flavor so magical, it'll grant your wish like a cherry godmother.

When you open a bottle of Zambia Bing Cherry you start to wonder how it could be this great tasting and good for you. It's almost as if you would need some sort of delicious magic to make this happen. You might think it's the bold flavor, 1g of sugar, and no artificial sweeteners that make this bottle so delicious. Or maybe you think a cherry godmother just whacked your taste buds with a flavor wand. But we'll never tell. Okay, you got us. It's the second one.
We named our flavors after the coffee growing regions that inspired them, sort of like French Kissing or Bermuda Shorts. Learn about these regions and more here.
Nutrition Facts
Serving Size | 1 Bottle
Amount Per Serving
% of Daily Value
Not a significant source of saturated fat, trans fat, cholesterol, dietary fiber, vitamin D, calcium, and iron.
13.5mg Vitamin C
100mg polyphenols from tea and coffeefruit extracts.
Caffeine
55mg per bottle (Like a cup of green tea)
Filtered water, erythritol, citric acid, cherry juice concentrate, malic acid, blackberry juice concentrate, potassium citrate, vegetable and fruit juice concentrates (for color), tea extract, ascorbic acid (vitamin C), stevia leaf extract, natural flavors, coffeefruit extract.
Rated

5

out of

5
by
JoanFran
from
Why erythritol???
Love your drinks. Especially, the Zambia cherry! Please take out the erythritol. It is not a healthy sweetener. Just use stevia or monk fruit.
Date published: 2023-07-04
Rated

5

out of

5
by
Baiiiiiiiiiiiii
from
Yum!
Just had a bottle of the Zambia Bing Cherry and it was delicious. Great balance between sweet and tart. Had it with some fajita tacos smothered in Salsa Verde. Seemed to pair well in my opinion. Anyway, adding this flavor to my bai favorites
Date published: 2023-06-08
Rated

5

out of

5
by
Seychelles
from
oh my goodness gracious
this drink is so good. I have had one for multiple days in a week since last year and this is my favorite noncarbonated drink on the market. the only problem is that the other people at the grocery store realize how good it is and they're never in stock.
Date published: 2023-06-04
Rated

5

out of

5
by
Meowmix55
from
AMAZING
This is hands down the best bai flavor ever! It was so good I took a sip and then immediately made the rest of my family try it. Perfect blend of sweet and sour. Will definitely buy again.
Date published: 2023-05-31
Rated

5

out of

5
by
susie q
from
My favorite all time drink
I have been drinking Bai (and Bai 5) for many many years and love it. However recently I don't like the change in size of the bottle and sold for the same price. Also I always get Zambia Cherry (drink usually 2 bottles/day) and this last 6 pack the drink was extremely watered down, don't know if it was a fluke but if they changed it, I will stop buying it and they will lose a valuable long time client. I hope it not the case, this is my all time favorite drink!
Date published: 2023-04-17
Rated

5

out of

5
by
Wisconsingirl48
from
Amazing
Love this drink, I quit drinking pop in January and Bai drinks have helped so much BUT I did noticed these went from 18oz 6 pks to 14oz 6pks and paying the same price. Because of this I am saying goodbye now to Bai drinks. Losing 24oz per 6 pk is a lot and then no price drop. I love this drink so much but I cant support this change.
Date published: 2023-03-17
Rated

5

out of

5
by
TJ8TJ
from
Love this drink!
I now found a 2nd flavor that I now like, and that is this bing cherry flavor. Mmmmmm!
Date published: 2022-11-20
Rated

5

out of

5
by
Margotg
from
First bottle fantastic!
I'm just working on my first bottle of sambia being cherry. It's one of the best flavors of any drink I've ever had. And now I see it only has one gram of sugar in the whole bottle, which comes from the fruit juice, and it has 55 mg of caffeine as well! What a great combination. This I will always keep in my fridge.
Date published: 2022-11-09