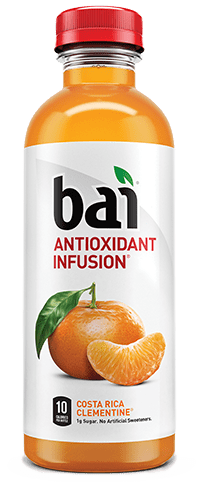 We struck gold in the clementine mine.

So that's what that guy was singing about back then. Old-timey ballad singer probably didn't know that decades later a drink would be created so tasty, so powerful and so low in calories, that the song would be repositioned to celebrate such an awesome achievement. Oh my darling, Costa Rica Clementine? Indeed.
We named our flavors after the coffee growing regions that inspired them, sort of like French Kissing or Bermuda Shorts. Learn about these regions and more here.
Rated

5

out of

5
by
SBai
from
Totally Awesome
Been drinking this flavor since it hit the market. Can't live without it !!!
Date published: 2021-06-07
Rated

5

out of

5
by
MarkMontana
from
Best of the Original Bai Drinks
Keeps my blood sugar steady with only 1G of sugar and 5 calories per bottle.
Date published: 2021-05-01
Rated

5

out of

5
by
Jacky79
from
Costa rica Clementine
The best one yet in my opinion. I love this one! It tastes so refreshing.
Date published: 2021-03-05
Rated

5

out of

5
by
JaimeG
from
Very tasty!
I am a pop and sugar lover trying to get away from all that and this drink makes it really easy. Just enough sugar to make it taste like kool-aid and juice but without the heartburn heavy juice hangover or sugar tooth rotting kool-aid lol. I am infatuated! The Tanzania Lemon Super Tea is really good too!
Date published: 2021-02-23
Rated

5

out of

5
by
Acorbin1961
from
awesome
I just brought this flavor and it is awesome, I am hooked
Date published: 2020-09-09
Rated

5

out of

5
by
neysaf
from
Sick of water and need a little flavor? This flavor Bai is quenching and fruity sweet. Only 10 calories for the whole bottle!
Date published: 2020-07-30
Rated

5

out of

5
by
_notfortheweak
from
My fav water. Taste just like juice but without the guilt I recommend this to everyone that tells me they're thirsty. I think it's just a bit pricey I usually get them on sale 2 for $5
Date published: 2020-04-23
Rated

5

out of

5
by
caldavis
from
This is my favorite drink by far! Always my go to while on the road. Low calories. Great flavor. And fairly priced. This is the drink that got me off soda for good. Highly recommend.
Date published: 2020-02-22