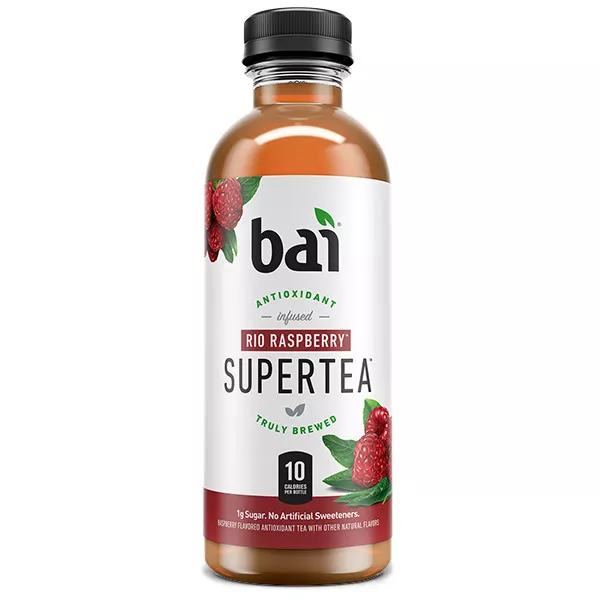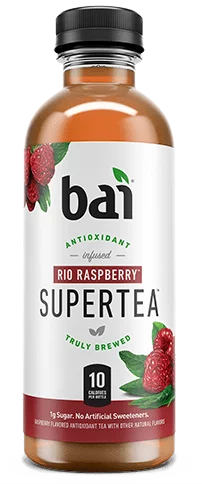 Have a grown-up tea party with your berry best friends

We put on our most flavorful hats and combined great tasting tea with good-for-you ingredients. Sure, it sounds like a mad idea. How can you have bold raspberry flavor with only 10 calories and no artificial sweeteners? You'll just have to follow your taste buds down a rabbit hole into the best of both worlds to find out.
We named our flavors after the coffee growing regions that inspired them, sort of like French Kissing or Bermuda Shorts. Learn about these regions and more here.
Rated

5

out of

5
by
TracyD
from
Great Tea
Love it but hard to find in store can you tell me if you are discontinuing it?
Date published: 2022-03-18
Rated

5

out of

5
by
Tomcat
from
YUMMY!
I found this tea at Weis Market about two months ago. I love the taste, so good. I have tried other brands and they don't come close in taste. I have not seen this at any other stores. I only see the fruit drinks you sell, how come? If Costco, Walmart, Publix Market or Wegmans carried them they would sell off the shelf quick. I have only seen the raspberry and peach tea and like them both but they only put out eight of each at a time so I have to go the every couple of days to stock up. You have a great tasting product like the rest of the drinks you make. Yes, they cost a bit more than others but they are not loaded with sugar and chemicals. Bai needs to get all their teas out in stores, six packs and cases because it sure is so much better than the other products out there. Your other products sell good so what is the problem with the tea? Buying this on line is crazy because of the shipping cost. People love tea in the south.....................Fredericksburg, Va.
Date published: 2021-07-18
Rated

5

out of

5
by
BillieJ
from
Yum
I'm so glad I tried the Bai rio raspberry tea. It's my new favorite! I love that it only has 10 calories and 1 gram of sugar per serving. It's infused with antioxidants, gluten free, soy free and vegan!
Date published: 2021-04-05
Rated

5

out of

5
by
Hippiechick07
from
Yummy Tea!
If you love tea of any kind. You will take a liking to this! It is delicious served cold! The flavor of the raspberry, is nice and subtle to were it doesn't over take the tea taste. It is definitely worth a try if you are a tea consieure!
Date published: 2021-04-05
Rated

5

out of

5
by
St3phi3w3phi3
from
Mmmm
I have been wanting to try this and I'm so glad I finally did. I'm always drawn to raspberry tea and this one did not disappoint. It is not overpowering with sweetness and it is not too bitter either. This is my new go to when it comes to tea and I can't wait to try the other flavors.
Date published: 2021-03-25
Rated

5

out of

5
by
LDeimos
from
Yummy sweet tea that's not too sweet.
I am an avid drinker of Sweet Tea, having lived in the south for a time. I am always looking for a bottled version that is as good as the real thing. My favorite sweet teas are flavored with peach or raspberry -- this stuff tastes excellent. It's refreshing and sweet (but not TOO sweet, more like half sweet half unsweet, which is the perfect balance IMHO), and the raspberry flavor tastes authentic. I also like that this has limited real sugar.
Date published: 2021-03-20
Rated

5

out of

5
by
Scott26
from
Delicious!
I love raspberry tea and this one is one of the best ones out there. Switched over from coffee months ago and went on a tea kick and now I pretty much have one of these every single morning with no intention of going back to coffee. Very satisfied with the flavor as well as with the nutritional info
Date published: 2021-03-16
Rated

5

out of

5
by
Anonymous
from
Refreshing
I love Bai Rio Raspberry Tea. It's so refreshing and I love the taste of raspberry tea. It actually tastes like tea and not fake. I like the fact that it low calorie and doesn't have sugar. The bottle is super pretty. I highly recommend you try it if you're an iced tea drinker like me.
Date published: 2021-03-16