Antioxidant Infusions®
Each serving of Bai offers exotic fruit flavors infused with coffeefruit, our "secret superfruit", which has antioxidants. With 1 gram of sugar and no artificial sweeteners, Bai is the way to bring bold flavor into your life.
Our flavors:
Sparkling Antioxidant Infusions®
Add some fizzy flavor to your life with the bold taste of Bai Bubbles. This 5-calorie phenomenon is overflowing with so much exotic sweetness and essential effervescence, you'll bubble over with bliss.
Antioxidant Supertea®
Make a little more me time by taking more tea time. Made with a mix of tea and real fruit flavor each sip of Supertea will take you to your happy taste. With 1 gram of sugar and no artificial sweeteners, your taste buds will reach a truly brewed state of relaxation.
Antioxidant Cocofusion®
Everyone loves coconut. We took a poll, and it was unanimously pro-coco. Just like our other Bai flavors, our Cocofusions have 1 gram of sugar and are infused with antioxidant goodness.
Antioxidant Infused®
You need hydration that works as hard as you do. That's why we crafted Antioxidant Water, infused with free-radical eradicating ions, to help your daily grind. Because when you power through the day, every antioxidant matters. Discover the crisp, clear difference of this super purified, electrolyte-enhanced water that keeps you functioning at full capacity.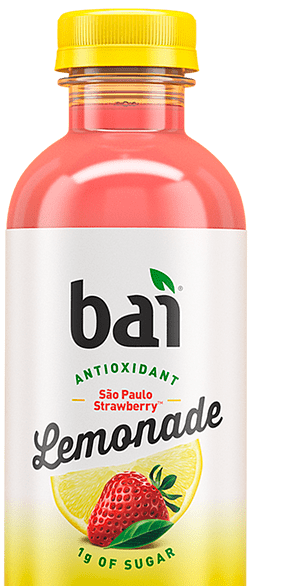 Antioxidant Lemonades
Quench your thirst with a refreshing taste of lemonade. Made with real fruit juice, 1g of sugar, and no artificial sweeteners, you'll wish life gave you lemons more often.
Caffeinated Antioxidant Water Beverage
Plant-based energy, real fruit flavor. Made with 110 mg of caffeine from white tea extract, no artificial sweeteners and 10 calories.