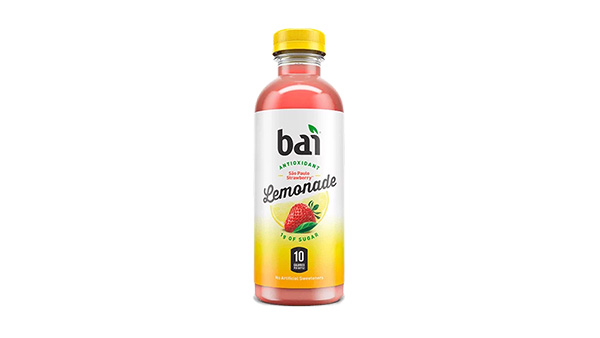 Flavor so binge-worthy, you could stream it all day long.

With an epic combination bringing together the best of two fruity worlds, there's no way we could release this lemony sensation one bottle at a time. So we're dropping an entire season of strawberry taste you can sip for hours on end. Just make sure you finish it in one sitting because everyone you know will be talking about how this one ends. Spoiler alert. This good-for-you flavor has just 1 gram of sugar.
We named our flavors after the coffee growing regions that inspired them, sort of like French Kissing or Bermuda Shorts. Learn about these regions and more here.
Nutrition Facts
Serving Size | 1 Bottle
Amount Per Serving
% of Daily Value
Not a significant source of saturated fat, trans fat, cholesterol, dietary fiber, vitamin D, calcium, and iron.
13.5mg Vitamin C
100mg polyphenols from tea and coffeefruit extracts.
Caffeine
55mg per bottle (Like a cup of green tea)
Filtered water, erythritol, clarified lemon juice concentrate, citric acid, malic acid, tea extract, ascorbic acid (vitamin C), stevia leaf extract, strawberry juice concentrate, natural flavors, acacia gum, vegetable juice concentrate (for color), coffeefruit extract, sodium citrate.
Rated

5

out of

5
by
AZ_Chad
from
Love it
My fav BAI flavor, best Strawberry Lemonade ever. Hard to find now which I hate because I'd buy more for sure,100%
Date published: 2022-11-15
Rated

5

out of

5
by
dibblm
from
One of my favorites
has a hint of coconut somewhere in it. Lemon is NOT overpowering like most lemonaides. Just a great refreshing drink for a hot day.
Date published: 2022-07-18
Rated

5

out of

5
by
Caro
from
SO GOOD
Literally amazing! would so recommend! buy it now! i would marry it if i could!!!!
Date published: 2021-10-04
Rated

5

out of

5
by
brian213
from
one of my favorite flavors!
i decided to pick up this flavor since i haven't tried it yet and it ended up becoming one of my favorites. definitely recommend. the 1 gram of sugar and no artificial sweeteners definitely makes it better and a healthy choice.
Date published: 2021-02-24
Rated

5

out of

5
by
Tortoise10
from
Delicious and gives me a little boost
I love the lemonade I love the normal flavors too but I've never seen it cans of it before
Date published: 2021-02-11
Rated

5

out of

5
by
Dimples90
from
So amazing
My first time tasting any of these drinks. So far, I love the strawberry lemonade.
Date published: 2021-02-07
Rated

5

out of

5
by
matthew_228
from
I absolutely love this brand. Only ten calories in the entire 18oz bottle. It's a great morning boost drink. It has the same amount of carotene as a cup of green tea 55mg. No need to improve on anything... Perfect IMO. I buy it quite a bit. So yes I would buy again.
Date published: 2020-10-25
Rated

5

out of

5
by
phaniej
from
This is delicious! I saw it on an endcap and since its only 10 calories I figured I try it. Its not tasteless like I thought. It was 1.44 for the bottle. I will definitely purchase this again. There were a few other flavors, so I plan on trying them all.
Date published: 2020-10-17