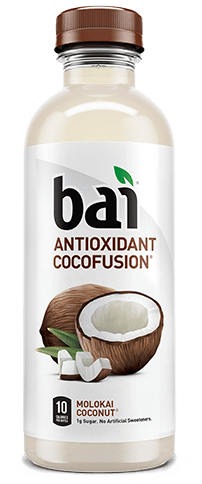 Behold a tropical flavorstorm.

The flavor in this bottle is so big and authentic, it almost tastes as perfect as what an empty hammock between two palms looks like. It's as if the one gram of sugar is as sweet as a hidden Hawaiian white sand beach. It's nearly like the ten calories carry the same beauty as a waterfall in the rainforest. In short, this bottle is paradise itself. Without getting leid.
We named our flavors after the coffee growing regions that inspired them, sort of like French Kissing or Bermuda Shorts. Learn about these regions and more here.
Rated

5

out of

5
by
Klee4
from
Sooo good
This is one of my absolute favorite drinks ever- it's so good and tastes just like a pina colada slushee
Date published: 2023-08-26
Rated

5

out of

5
by
Wyndol
from
I love Cocofusion!
I order online but when I give out I have to stop by the local store because I want my bai Cocofusion every day! The only problem, if you call it a problem, is that once in a while I get a bottle that is not quite as tasty as it should be. Can someone answer why this happens?
Date published: 2023-08-23
Rated

5

out of

5
by
Leah66
from
Heavenly Flavour!!!!
I am so stoked I found this delicious 10 calorie drink!!! I hope they manufacture this forever. It's my favorite drink. Love, Love, Love it!!!!!!!! :)
Date published: 2023-08-19
Rated

5

out of

5
by
Deb405
from
Great drink
This is my favorite drink. It is so refreshing and taste so good. I drink two a day and can't wait to get the delicious flavor. Only problem I have is every once in a while I get a bad tasting one. It has only happened twice in the three or more years I've been drinking them. I still will keep buying although it is disappointing getting a bad one.
Date published: 2023-08-14
Rated

5

out of

5
by
Finca
from
Pleasantly surprised Cocofusion
Tried this bai cocofusion and what a surprise at the flavor! No aftertaste.
Date published: 2023-07-30
Rated

5

out of

5
by
RyanShane88
from
Molokai Coconut Addict
We cannot get enough of the Molokai Coconut. We literally clear the shelf at the store every opportunity we get. No shame. If y'all made gallon jugs of the stuff, we'd still do it. I absolutely love my daily Bai waters.
Date published: 2023-07-18
Rated

5

out of

5
by
AnnB
from
My go to drink!
I am absolutely love, and I am addicted to Bai Coconut water. How long is a good for after the sell by date? A year?
Date published: 2023-06-24
Rated

5

out of

5
by
Kelz
from
Obsessed
I am absolutely obsessed with this drink! I drink them all the time… I normally only drink water but this us perfect.. doesn't leave me bloated at all .
Date published: 2023-04-30