Antioxidant Infusions®
Each serving of Bai bring exotic flavors infused with antioxidants. With 1 gram of sugar, 10 calories, and no artificial sweeteners, Bai is flavorful daily hydration and so much more.
Our flavors:
Antioxidant Cocofusion®
Everything you love about bai, but with the coconut you love. Just like our other Bai flavors, our Cocofusions offer up daily hydration and have 1 gram of sugar and are infused with antioxidants.
Caffeinated Antioxidant Water Beverage
Plant-based energy, real fruit flavor. Made with 110 mg of caffeine from white tea extract, no artificial sweeteners and 10 calories.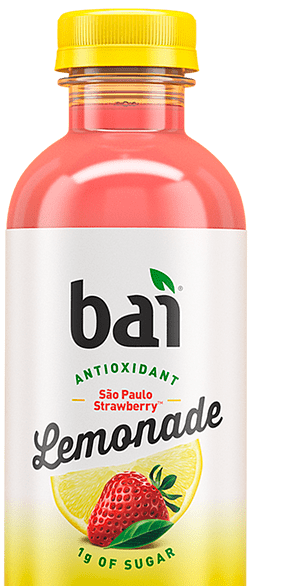 Antioxidant Lemonades
Quench your thirst with the refreshing taste of lemonade. Made with real fruit juice, 1g of sugar, and no artificial sweeteners.
Antioxidant Supertea®
Made with a mix of tea and real fruit flavor, each sip of Supertea is as delicious as the next. And with 1 gram of sugar and no artificial sweeteners, we'll understand if you've found your new favorite tea.